Welcome to August's NAVBLUE Employee Spotlight Feature! We've created these stories with the goal of shining a spotlight on the pivotal role our employees play in the tech and aviation field, their journeys so far, and how NAVBLUE aims to create an innovative and inclusive workforce with their help.

Today we are sharing the story of Dana Teschke, Head of Procurement.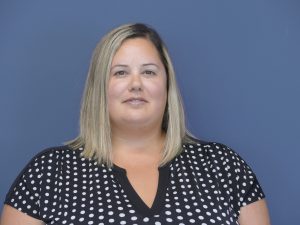 Fun Facts
Dana is an avid vegetable gardener. Her urban garden feeds her family as well as anyone she can find to take the veggies she grows.
She loves hiking, her bucket list hike is to descend the Grand Canyon and hike from the south to north rim and back again over a few days.
Although she is fascinated by the aviation industry and flies regularly, she really hates to fly!
Q&A
Thanks for joining us, Dana! Tell us a bit about your background.
My first job out of school was in the HVAC industry. I managed large industrial and manufacturing projects that gave me an opportunity to touch a lot of aspects of the business. I felt I was extremely lucky with this role as the environment was very supporting of me. From there, I focused my efforts and development on supply chain management.
I've always been really interested in how things work behind the scenes and I like to feel that I can contribute in a variety of different ways. As well, I find I get bored easily and I need to be challenged to stay engaged, so supply chain management became a very good outlet for that. On top of working in many different industries, I am an adamant believer in lifelong learning so I find myself going back to school for one thing or another fairly frequently. In 2018 I finished my Certified Supply Chain Management Professional designation and I've participated in various courses within many different sectors, as I want to take every opportunity I can to learn more. I also recently decided to go back to school to pursue my MBA.

Why did you chose to work at NAVBLUE?
NAVBLUE has a very good reputation. At the time, I knew a few people that worked at NAVBLUE and they always had amazing things to say about the company, so when a procurement role popped up, I jumped at the opportunity. On top of that, it interested me to work in such a unique industry and expand my knowledge and experience in the digital supply chain.
You recently moved from Manager of Procurement to Head of Procurement, what was that experience like?
The experience felt very natural thanks to the amazing support from my direct and senior management. I was made to feel really comfortable about sharing my career ambitions and developing my talent, and management always encouraged me to speak my mind and tell them what I wanted. On top of that, NAVBLUE makes it very clear that developing talent is one of their main principles, and I benefited greatly from that, as there were many measures in place to ensure I was ready for advancement when the opportunity came up
Can you tell me, in brief, what a Head of Procurement is and what that role entails within NAVBLUE?
Essentially my job is to facilitate the pursuit of value for NAVBLUE. It's not as simple as getting the best price or haggling a supplier for something, there's a lot of strategy when it comes to supply chain management and my role is to make sure that happens smoothly. There's developing and driving a buying strategy which allows us to achieve the maximum with our resources, as well as safeguarding our reputation for ethical business practices, contributing to the health of the supplier base, and supporting my team and colleagues any way I can to create an environment where we can thrive.
How has the transition been into this leadership role?
I have a really supportive team, and the relationships that we have formed through transparency and open dialogue have made this transition incredibly easy. I have never felt like the role was being tossed over the fence or been in a situation that has felt like sink or swim. Sinking is not a possibility when you're so well-supported.
What led you to pursue a career in business and procurement?
When I was nearing the end of my highschool career and it was time to begin applying for schools, I found myself unsure of what direction I wanted my career to go. I sat down with my parents and with my mom being a successful business woman, she encouraged me to pursue business school as it would give me lots of options after graduation so that's what I did. When I was in school, Supply Chain Management was not really a recognized discipline at the time as it was really at its infancy as a business discipline however I was given some exposure to it in school and that led to me having a passion for it.
What are some of your favorite things about working at NAVBLUE?
I know it sounds cliche but the people are what make NAVBLUE so great. There are an awful lot of great professionals who are smart and talented, but also incredible people as well. On top of that, we have a strong, open line of communication with our leadership and we are encouraged to participate in making NAVBLUE a better place to work. As well, we have many great committees and programs and it ensures that there is something for everyone within NAVBLUE
Can you tell us a bit about a favorite project that you've worked on here at NAVBLUE?
I really liked being involved in the key RFPs that we run which are our larger tenders.
These projects are really where the rubber meets the road and although they can be intimidating and time consuming, each one is very unique and challenging in a great way. At the end of the day, after all the time and effort put into these projects, something great always comes of it and that is incredibly rewarding. These projects are always the most challenging but also the most rewarding and if I can make that a positive experience for my colleagues and stakeholders then I get a great amount of satisfaction out of that
What is some advice you would give to other people who are pursuing a career in procurement?
I would encourage someone new in procurement to really be humble and learn. Nobody expects you to know everything about the technical aspects of whatever field you are in right away. Be really open about your strengths and what you do and don't know. Don't try to be an expert right away. Embrace the concept that you are not an island and that you are there to help the team be successful. This point goes back to facilitation, ultimately you have to be comfortable in a facilitator role as that is incredibly key in supply chain management.
I would also encourage anyone who wants to get into supply chain management to be bold, be seen, speak up, and ask a lot of questions. On top of that, when it comes to the practical side, get some project management experience and training as those are skills you will use each and every day.
___
Interested in joining the NAVBLUE Team?