Welcome to January's NAVBLUE Employee Spotlight Feature! We've created these stories with the goal of shining a spotlight on the pivotal role our employees play in the tech and aviation field, their journeys so far, and how NAVBLUE aims to create an innovative and inclusive workforce with their help. 

Today we are sharing the story of Marta Muzinska, Head of Aero Data Hub in Gdańsk, Poland.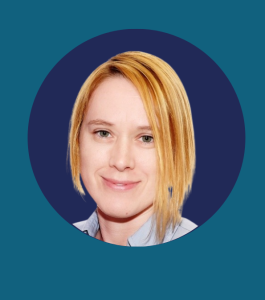 Fun Facts
She spent 3 weeks as a deck cadet on a research vessel traveling to the Arctic 🐧🚢

She was very enthusiastic about hang gliding, until she tried it for the first time 🪁😱

She is an avid baker, constantly challenging myself and trying out new recipes🧁🍪
Q&A
Thanks for joining us, Marta. Tell us a bit about your background and who you are, please! 
Hello, thank you for having me!
I have been with NAVBLUE for four years. I'm leading the Aero Data Hub in NAVBLUE. I am also managing the Gdańsk office that officially opened on October 1st. I have over ten years of leadership experience, mostly in the aviation industry. I was born and raised in Gdańsk, Poland.
What led you to pursue a career in aero data? 
My professional career has been revolving around data since the beginning. I have studied Economics. At first, I was working with financial data. Then, I started to work for an aviation company, discovering the fascinating world of aviation data. What is worth mentioning is how meaningful the work we do is.
You recently arrived at the new office of NAVBLUE in Poland
I felt really proud that NAVBLUE has selected Gdańsk for the new office. I was moving back from the United Kingdom to my hometown. If you think about relocation, it couldn't be easier than that. I knew all I needed to know and had a good network in place. I was able to focus on setting up the office which was a very exciting and challenging endeavor. However, the team working on this project was amazing and together we were able to quickly progress.
And, why did you choose to work at NAVBLUE?
Two key aspects contributed to this decision.
The first one was that NAVBLUE is a relatively small company with tremendous agility and great ambition. At the same time, NAVBLUE is a fully owned AIRBUS subsidiary, a leader in the aeronautical market, and working for NAVBLUE you can benefit from the advantages that bring.
The second aspect was more personal as I needed to relocate to Hersham, UK. It was a great opportunity to step out of my comfort zone and grow not only professionally, but personally.
Can you tell me, in brief, what a Head of Aero Data Hub is and what that role entails within NAVBLUE?
The Aero Data Hub team receives aeronautical information from over 180 countries. The data is then analyzed and relevant updates are made in our systems. The data is used to produce navigation databases, charts, airport maps and support other NAVBLUE products. In my role I oversee the day to day production operations and manage digitization projects. Safety is our utmost priority so a lot of our focus goes to data quality topics
What are some of your favorite things about working at NAVBLUE?
There are many things, for example, we are working as one team regardless of location. We work on tasks, projects, initiatives or have social activities with colleagues from different NAVBLUE offices. I really appreciate the communication within the company. I feel I can make more informed decisions thanks to the culture of information sharing. There is a strong focus at NAVBLUE on providing opportunities for growth and development with very interesting programs such as Navtalent in place.
And most importantly, the people. It is a great pleasure to be a part of such an amazing team, people with passion for what we do, dependable, knowledgeable and fun!
What would you say to someone who is thinking of joining the NAVBLUE family in Poland?
Joining NAVBLUE gives you the opportunity to work with new technologies, use SAFe methodology, join interesting projects and cooperate with great people. For our Gdansk site we are looking for talented individuals to join our Software Development and Aero Data Hub teams.  We are still a fairly new team in Gdansk but we are already strongly embedded in the NAVBLUE ecosystem so you will truly feel that you are becoming part of the NAVBLUE family.
___
Interested in joining the NAVBLUE Team in Gdańsk?