Welcome to June's NAVBLUE Employee Spotlight Feature! We've created these stories with the goal of shining a spotlight on the pivotal role our employees play in the tech and aviation field, their journeys so far, and how NAVBLUE aims to create an innovative and inclusive workforce with their help.
Today we are sharing the story of Kailey Campbell, N-Flight Planning (N-FP) Product Manager.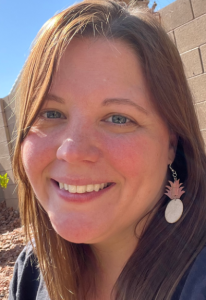 Fun Facts
Kailey was born in Nebraska and is the oldest of 5

She

met her husband in the cockpit of a Boeing 757

She has a full private pilot license and dispatcher license  ✈✈
Q&A
Thanks for joining us, Kailey! Tell us a bit about your background.
I got my degree in aviation from the University of Nebraska at Omaha. From there I worked various jobs like interning at the TSA, customer service rep at a local FBO (Fixed Base Operator), and working as a flight scheduler for a private fortune 500 company. I then got my dispatcher license and got a job at Allegiant Airlines and from there NAVBLUE found me.
What has your experience been like at NAVBLUE since you've joined?
There has been a lot of growth and change with many new positions and new ways of working. There has been a lot of focus on enhancing our relationship with the customers and overall there has just been lots of forward gaining momentum which has been nice to experience
What was your role originally at NAVBLUE? What other roles have you held within the organization?
I started off as a product application specialist for NFP (N-Flight Planning). Following that I moved into marketing for a couple reasons. The first reason was because I had a minor in marketing from college and I wanted to be able to put that to use, but also, moving into marketing allowed me to expand my knowledge in our other OCC products. That role lasted a few years and now I am back on the NFP team as the lead product manager.
How do you feel NAVBLUE has helped you advance in your career?
The advancement process within NAVBLUE has been great. When I was in marketing, I had discussions with leadership and HR and brought up that I felt my skills could be better used somewhere else. 
The leadership allowed me to talk it out and the role of product manager was brought up which was incredibly interesting. With all that being said, everyone within NAVBLUE is very open about advancing your career and wants it to be very clear that you should not feel you need to stay in one position for your entire time within the organization. Just being able to have those conversations with leadership regarding these topics has been very positive for me.
What is your current role in the team? What does that role entail in terms of responsibilities and day to day work?
Right now my big focus is enhancing the process and procedures within the NFP team and finding the best process and procedures for our current customer facing training and the health checks we perform. On the other side of things, I have continued to do NFP sales campaigns such as doing demos for customers, attending conferences and assisting with RFPs.
What led you to pursue a career in aviation and subsequently, Product Management?
At the start of my college career, I took an intro to aviation course and absolutely fell in love with the industry and by the end of the semester I had switched my major. In regards to marketing within the industry, it presents a unique challenge. We are not necessarily marketing towards consumers of a product but rather towards a specific industry with specific people. This forced me to think differently and really try to relate to them using my background in aviation. 
As for product manager, that was never a role I had imagined myself ending up in; However it was a really exciting path that I took to get here and I really love what I do.
What are some of your favorite things about working at NAVBLUE?
For me it's the people in this organization.
As a remote employee, I don't really have the opportunity to go into the office often and I still feel as though I am very close with my team and the other people in other offices. As well, the opportunities to travel and meet our customers face-to-face has been incredibly rewarding.  
Can you tell us a bit about a favorite project that you've worked on here at NAVBLUE?
The first one that came to mind was deploying my very first customer with NFP (Caribbean Airlines).
 I spent a lot of time in Trinidad with them doing training and making sure everything was ready for launch and seeing it go live. They still use the system today which is nice to see because that has to mean it's going well. 
What is some advice you would give to other Women who are considering working in aviation and product management?
My first recommendation would be to get involved. Whether it be Women In Aviation programs or girls can fly because this will help you work on your networking skills as networking is a big reason I got to where I am today. Also I would recommend being flexible. 
As I previously mentioned, I never had considered Product Management as a career option for myself but now I love what I do, so just be open to new opportunities as you never know what new doors will open up.
What do you see your future of NAVBLUE being? What excites you?
One thing that really excites me is the fact that we are still growing and I get to play an active role within that growth. 
I see myself always working with our customers and continuing to build those relationships over time. As well, as we continue to gain customers, I'm really excited to see how we grow and respond to that.
___
Interested in joining the NAVBLUE Team? We are hiring!