Welcome to September's NAVBLUE Employee Spotlight Feature! We've created these stories with the goal of shining a spotlight on the pivotal role our employees play in the tech and aviation field, their journeys so far, and how NAVBLUE aims to create an innovative and inclusive workforce with their help. 

Today we are sharing the story of Danilo Jovanovic, Finance Manager.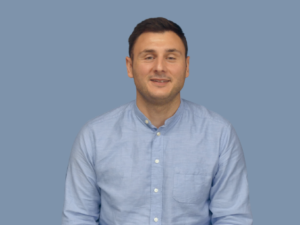 Fun Facts
He is a dedicated swim-runner
He is an ambitious chef
He has two young children, a 3 year old and a 1 year old, as well as a wonderful wife
Q&A
Thanks for joining us, Danilo! Tell us a bit about your background.
I have a bachelor's degree in accounting from the University of Gävle. After graduation, I began working as an accountant on a consulting basis for a typical accounting firm in Gothenburg, and this was my first step into the finances' world.
This job was super fun and rewarding for me, and after two years at it, I had the opportunity to shoulder a more complex role, as it was the first time I got the opportunity to step into a position as a Finance Manager with a midsized construction company. I worked for them for two years, and learned a ton on that job as well. Then, in May of 2021, I got the opportunity to join NAVBLUE.
I was super fortunate to spread my wings in a large international company like this one.
Why did you chose to work at NAVBLUE?
From a professional development perspective, I have long-term goals set out for myself, and taking a position within a large international company was one of those goals at the time.
When I first saw the job posting on LinkedIn for the Finance Manager role, it ticked all of my boxes, and I was super thrilled to get started.
What has your experience been like at NAVBLUE since you've joined?
It has definitely been a very fast-paced environment but in a good way because I like to see things happen. The last year and a half has felt like just a couple of weeks, time has just flown by which is positive because I think if time goes by fast, it means you are having a good time which I am.
Being given the possibility to develop my professional skills, as well as my business English, have been the main things I have noticed within myself through this timeline as well. On top of that, it has been very motivating for me to work with highly skilled professionals as they are not only incredible at what they do but also great people as well.
Can you tell me, in brief, what what you do at  NAVBLUE as a Finance Manager?
That is a very good question!
Going back to what I said before about working -and to some extent living in a fast-paced environment- it means I have lots to do.
My tasks have been adjusted a bit since I first began working for NAVBLUE. I would say I have worn two hats from day one, playing the role of Finance Manager, but also as a Controller as well. In the beginning, the split was 70% Finance Managing and about 30% Controlling. However, today it is pretty much the opposite as I have moved into a more prominent Controlling role due to the fact that we have redefined our processes in the Finance department.
What led you to pursue a career in Finance?
I am a very numbers-oriented person. I like to spend my time in an environment with figures. If you were to look at my screen right now, you would see lots of spreadsheets open. These things have developed into a true interest in accounting and controlling subjects as I spend lots of my free time on forums, trying to figure out new trends and best practices.
What are some of your favorite things about working at NAVBLUE?
I really enjoy being surrounded by professionals. As well, reaching one of my professional goals of taking part in a large international company is also very rewarding as I have everything I need in a company like NAVBLUE and Airbus for professional development.
On top of that, we have a lot of fun at NAVBLUE and I love that!
What is some advice would give to someone who wants to work in the tech industry but does not necessarily have a traditional technical background?
I would advise them strongly to apply for a position at a company like NAVBLUE. NAVBLUE has been able to bridge the gap between people of different technical backgrounds and does a fantastic job of breaking down silos. So I would say if you want to break into the technical field but don't necessarily have the background of tech, send in an application at NAVBLUE.
What do you see your future of NAVBLUE being? What excites you?
I see myself having a clear future in this company.
What excites me is the fact that I see many interesting and challenging tasks in my future, and when you combine that with the assistance of professional and talented colleagues, it leads to a fantastic experience and lots of positive development.
___
Interested in joining the NAVBLUE Team?