Welcome to July's NAVBLUE Employee Spotlight Feature! We've created these stories with the goal of shining a spotlight on the pivotal role our employees play in the tech and aviation field, their journeys so far, and how NAVBLUE aims to create an innovative and inclusive workforce with their help.
Today we are sharing the story of Charles Thornberry, Head of Airspace & Airport Sales.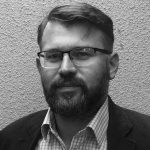 Fun Facts
Charles

speaks conversational Japanese
There is a crime novel dedicated to him
He is an avid concert goer, favourite band is Brian Jonestowwn Massacre
Q&A
Thanks for joining us, Charles! Tell us a bit about your background.
I studied chemistry at university and then did a couple of analyst jobs at electricity and telephone companies. Then I taught English in Japan for a couple of years. Following that in 2005, I joined a small GNSS (Global Navigation Satellite System) company and worked for them until 2015. That company was then bought by Navtech, and a year later Navtech was bought by Airbus, and became NAVBLUE. As for previous roles, I worked in project management and sales, then moved more into core marketing and now I'm in the sales team.
What led you to pursue a career in sales, and subsequently sales within the aviation industry?
I would say the word pursue gives me more credit than I deserve as I sort of walked backwards into a career in sales. However, it is a very natural development and I very much enjoy the problem-solving and interactive elements of the role. I love the challenge of explaining complicated concepts to non-experts so they can increase their awareness and understanding of the subject matter and our capabilities. Honestly, I feel as though it boils down to a personality thing as I enjoy the variety of the role.
Can you take me through your decision to go back to school and pursue a degree in project management?
I've always liked to study and learn and I've consistently carried that throughout my life with a few hiatuses here and there. For example, while I've been living in France, I've been doing my best to learn French despite my lack of a French background. As well, project management is a transversal ability that touches everything and although I had some project management experience at the time, this diploma really helped me understand corporate lingo.
How do you feel this decision has helped you get to the position you are in today?
Learning project management is like a language. For example, when you go through school to become an accountant or an engineer, there's a way of speaking, and not only do you want to understand it, but you want to speak as well and do so in a way as to not sound foolish yourself. So for me, it is critical because it is transversal and when I am selling different products to different market segments, there is a commonality when you start talking about PNPs and budgets and those sorts of things.
All in all, the verbiage is common and this degree shortcuts a lot of the lessons I would have had to learn the hard way and saved me from looking foolish more than once.
Why did you choose to work at NAVBLUE?
It was a no brainer for me personally. With Navtech/NAVBLUE being an Airbus company, it opened so many doors to loads of new opportunities. For example, I've moved abroad from the UK to France and with Airbus being a blue chip company, every person you interact with is the smartest in the domain. What's not to love honestly.
Can you tell me, in brief, what a Head of Airspace & Airport Sales is, and what your role in the company is?
At its base the job is sales. However, I am doing everything across the entire value chain of a customer interaction.
I identify opportunities with the customer and the NAVBLUE stakeholders and sometimes even external partners to build the offer and relationship. Then you get to contract stuff where I have to coordinate with lots of different people, then once the contract is signed I am a little more hands off but still ensure I keep tabs on the relationship to ensure the customer is satisfied and to identify other areas to work with that customer.
As well, I represent the company so I have to be honest in my dealings, but I also have to advocate for the customer within the company and represent them to the stakeholders within NAVBLUE.
What do you enjoy most about the position you are currently in?
Definitely the people. I can start my day talking to someone in Pakistan, end it talking to someone in Peru and talk to all kinds of people in between. I really enjoy interacting with people from many different cultures not only outside of NAVBLUE but within NAVBLUE and Airbus as well. For me, it is relentlessly entertaining.
Can you tell us a bit about a favorite project that you've worked on here at NAVBLUE?
The most recent one I can think of is our Runway Sense Product.
We started this when I was in my marketing role and I had to consider the value offer, sales training, contractual documents and building the pricing which was very satisfying. Then when I moved to sales I was able to sell this product that I helped bring to market and making the first few sales of that product was incredibly rewarding.
What is some advice you would give to someone who is constantly looking to push their career to a higher level?
If I could advise a younger version of myself, I would say that at times I would have the tendency to be a little more reserved, however, there is nothing wrong with being a bit bolder. If you are curious about the way someone is thinking or would like insight into what they are doing, go and ask them. Don't be afraid to sort of push back and ask questions and challenge people because through these questions, you can find new opportunities. Just make sure you are pushy in the right situation.
How do you see the future of your career and department at NAVBLUE going?
I'll split this answer into two sections, department and then career.
For the department, we are in a very niche domain and have obviously had a couple of difficult years through covid. However I think our department has a very healthy future as there is a lot of work and development out there, we just need to have the right amount of focus.
In terms of my career, I don't have any immediate plans, but any role where I can continue to advocate for NAVBLUE to the outside is a role I'd be happy with. I know within Airbus there are departments that work with partners and governments and that's definitely something that intrigues me.
___
Interested in joining the NAVBLUE Team?