Welcome to March 's NAVBLUE Employee Spotlight Feature! We've created these stories with the goal of shining a spotlight on the pivotal role our employees play in the tech and aviation field, their journeys so far, and how NAVBLUE aims to create an innovative and inclusive workforce with their help. 

Today we are sharing the story of  Marit Sormus, Methods & Tools Technical Lead in Hersham, UK.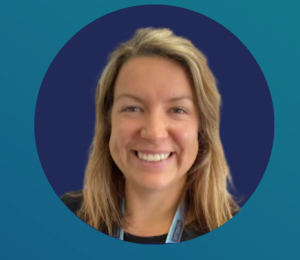 Fun Facts
She enjoys partaking in triathlons and often you can find her on a bike or swimming some crazy distances
She is Estonian
She is a bit of a whizz in the kitchen! She loves to  make banana breads and oat bars
Q&A
Thanks for joining us, Marit! Tell us a bit about your background.

I studied sports therapy in Estonia, and during my studies, I decided to take a gap year and move to the UK. Here, an opportunity came up to join NAVBLUE (then Navtech) as an Aeronautical Information Management Data Analyst, and this is where my aviation career started!
What led you to pursue a career in aviation and tech?
When I started my career at NAVBLUE, I had no aviation background at all. But, as I enjoy learning new things and taking on challenges, I was determined to make it a success.
I led the AIM team for several years, and was driven by the enhancements we made internally -as well as externally- when contributing to the development of wider industry standards. In 2021, a new team was put together, Methods and Tools,which promised to bring a change to how business software is managed in NAVBLUE. This presented a new challenge for me and I took the opportunity to move on from AIM to software management.
Can you tell me, in brief, what a Methods & Tools Technical Lead is and what that role entails within NAVBLUE?
In my role, I'm responsible for supporting business stakeholders with their tool requirements. Not only for our existing tools but also from the beginning, when they have identified there is a need for something new all the way through to vendor selection, purchasing, and deployment.
I'm also responsible for putting together processes that govern how software is used within the company, ensuring an alignment with all our internal policies, such as export control, security compliance, etc.
I also help with setting up configuration and user management, high-level governance of the software, and services we deploy, and also drive any future enhancements that are required whilst collaborating with our Stakeholders.
What do you think is the reason why the presence of women in technical leading positions in the aerospace industry is lower than male presence?
Aviation is a male-dominated industry and unfortunately, if you do not see representation you can relate to, people will often think it's not achievable for them.
Even though we see more and more women in leadership positions in the aerospace industry, there is not enough of a spotlight on them, so young girls may perhaps not consider aerospace as a career option and therefore not choose it as their topic to study.
What do you think companies could do to solve this issue? 
Companies could participate in "career days" where the aerospace industry is represented by women, showing the variety of careers available and sharing their experiences with young women. On the other side, companies could also support and provide development opportunities for women, especially for those who are already in the industry and show passion and eagerness to develop their skills in the aerospace domain.
What is some advice you would give to other women who are pursuing a career like yours?

Believe in yourself. Know that it's fine not to know everything, keep asking questions and expanding your knowledge. These actions will only help you grow your skill set and, with that, open doors that maybe you didn't even know existed before.
I would also say that if you cannot see somebody in the role or position you would like to take on, don't let that stop you, work hard so you could be that person for someone else to look up to!
You've been part of NAVBLUE since the company was born… What was it like to experience that time of evolution and change inside the company?

This has been exciting because so much has happened since we joined the Airbus family! Like with anything new, you have to learn to adjust and take the time to get to know your new colleagues, the new "ways of working" together, and all the nuances of what is -effectively- a new company.
Now, we maximize our resources and knowledge, allowing us to keep growing and pushing forward as a company. 
How do you see the future of NAVBLUE?
Innovation and sustainability are at the heart of NAVBLUE and we are constantly looking for ways to improve our services and support which we provide to our customers. Seeing the drive our teams have to innovate and succeed, I believe NAVBLUE will continue  to lead the industry on the flight operations solutions whilst  working closely with Airbus on aerospace sustainability topics.
___
Interested in joining the NAVBLUE?